Taekwondo KickStars is our new programme for children of 4 - 7 years old, designed to offer your child a place where they can enjoy taking part and progressing through the early stages of our wonderful Olympic sport and martial art of Taekwondo. We will motivate and encourage your child to achieve their goals through a series of fun, friendly and structured lessons, with regular belt gradings.
Taekwondo develops your child's athletic abilities and self-awareness, and improves the child's capabilities in self-defense. Taekwondo emphasises moral development as well. Children learn respect for themselves and others, heightened concentration, and increased self-discipline and self-restraint. The self-discipline that develops as a result of learning and practicing the techniques usually carries over into other areas of the child's life. School grades often improve as your child learns to focus on objectives and to work toward achievement.
Family Classes
The Family Taekwondo classes provide social, physical and emotional growth for the whole family. We work with parents and children to gain the best outcome for every family.
You need no previous experience of taekwondo to be able to join in. Just come along on Wednesday or Saturday in loose exercise clothing, a bottle of water and a willingness to particpiate and we'll help you with the rest.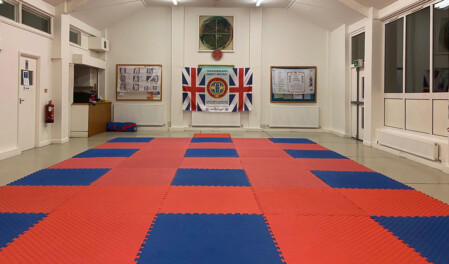 Training hall at St Peter's
Wednesdays 19:30 - 21:00

Additional Costs
An annual British Taekwondo membership of £25.00
(includes insurance).
Kup gradings take place 3 times a year.
Kup gradings start from £22.00
(includes certificate if successful).
Available at discounted prices
(Please ask an instructor.)
Competitions
If you are interested in competing, please speak to an instructor as soon as possible.
COST
T-TKD is a non-profit Taekwondo club.
Our Fees are one of the lowest in the country.
Children: (up to 14 years) £ 5.00 per session.
Adults: (14 years and older) £6.00 per session.

Family discounts available.
Your membership provides you with:
Membership to the National Governing Body of the Olympic sport of Taekwondo in the United Kingdom.

Membership to the World Taekwondo Federation along with 60 million other members worldwide.

Annual insurance.

Access to seminars, courses, competitions and grading's both locally and nationally.

The potential to become the next Olympic Champion.

"I fear not the man who has practiced 10,000 kicks once,
but I fear the man who has practiced one kick 10,000 times"